Relive and share the funny, quirky, moving, awe-inspiring stories that make up your life with
Whip
.
Quickly and effortlessly blend multiple digital media–photos, video, music and more–to tell stories of life's moments in just a few taps. Turn your story into a
Whip
and share what matters most to you–from a breast cancer walk to a World Series baseball game–from "you-won't-believe-what-happened-at-the-wedding" to "I-actually-learned-to-make-ravioli-on-my-Italy-trip".
Polish your album with fun comments or the perfect song in a few taps, then watch "likes" and comments roll in.
Whip
, the free social photo album app for your
iPad
, Android phone and Windows 8 tablet or PC, comes from the digital imaging experts at ArcSoft, bringing 17 years of experience in imaging embedded in cameras and computers you use daily.
Highlights
View awesome Whips from the community, including from rock band The Killers and fashion guru Eva Chen
Whip out a photo album (a.k.a. a Whip) in three easy steps: select photos and video, customize, and share!
Use photos and video from your tablet (iPad feature)
Add photos from Facebook
One-touch enhancement tool ensures your photos are picture-perfect
Add text to the cover or individual pages to spice up your Whips
Spruce your Whip up with cool tunes from our "indie" library
Share your talent with the world – publish to Twitter, Facebook, SMS it or email it to a friend (Twitter and SMS available for Android only)
Your adoring fans don't need to have the app to ooh and ahh – your Whip can be viewed on any computer, tablet or smartphone.
Auto-play Whips for a slideshow effect with music or swipe to flip the pages at your own pace, magazine-style.
Whip is for passionate people–whether they want to share a cause they believe in, are really into their sport, love to share what they've learned and seen, or simply like to show off their adventures. These passionate users want to bring their stories to life in a vibrant way, with options to combine photos, video, music and words to create a complete experience. Whip users love to share within a community in a beautifully designed environment, with the flexibility of sharing with only their loved ones or with people who simply share their passion.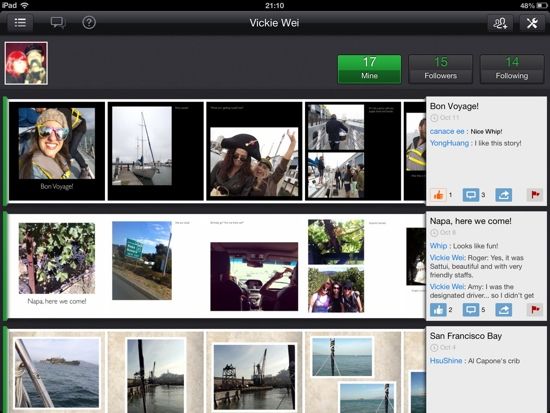 Picking photos where you have them. Whips are a breeze to make, including selecting your photos. Choose from your device's content, or more dangerously, from your Facebook photos (warning: may include what happened last Friday night).
Whip out your story. Whips are so simple to create you'll have "Oh-so-relaxing week-end at the beach", "I actually met the drummer", and "You-won't-believe-what-Andy-did" albums in no time! Pick your favorite 24 photos to include, then move on to the fun part: customizing.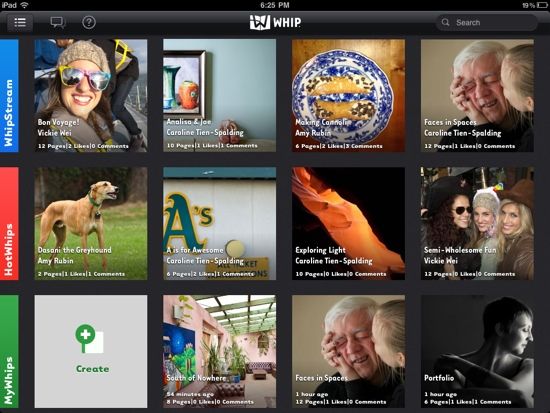 Time to get personal. Now that you've got your content, it's time to pick your template. Whether it's a baby shower, or some good old-fashioned Vegas debauchery, we've got designs to compliment your Whip perfectly- each paired with a unique indie tune. We even have Christmas, New Year's and Winter styles to keep you in the Holiday spirit. Then, let Whip's photo technology automatically organize, crop, and compose your photos to make them look great. Whip even auto-detects faces and magically positions your photos so they're in the frame (
iPad
feature).
Flexibility and control. For you perfectionists out there, you can easily rotate, size, swap, and enhance individual photos with one tap to customize your Whip even more. Try out fun captions to really bring your story to life.
Impress your friends and family. It's time to Whip out your album to the world. Send it to your bestie via SMS or email, show it off on Facebook, Twitter, or post it on WhipStream to incite mass jealousy.
Interact. One of the best parts about using Whip is being able to interact with other Whipsters directly within the app. See a Whip that inspires you? Follow that Whipster to see all their latest creations. And don't be shy, feel free to 'like' Whips, share your comments, and share your own albums with reckless abandon.